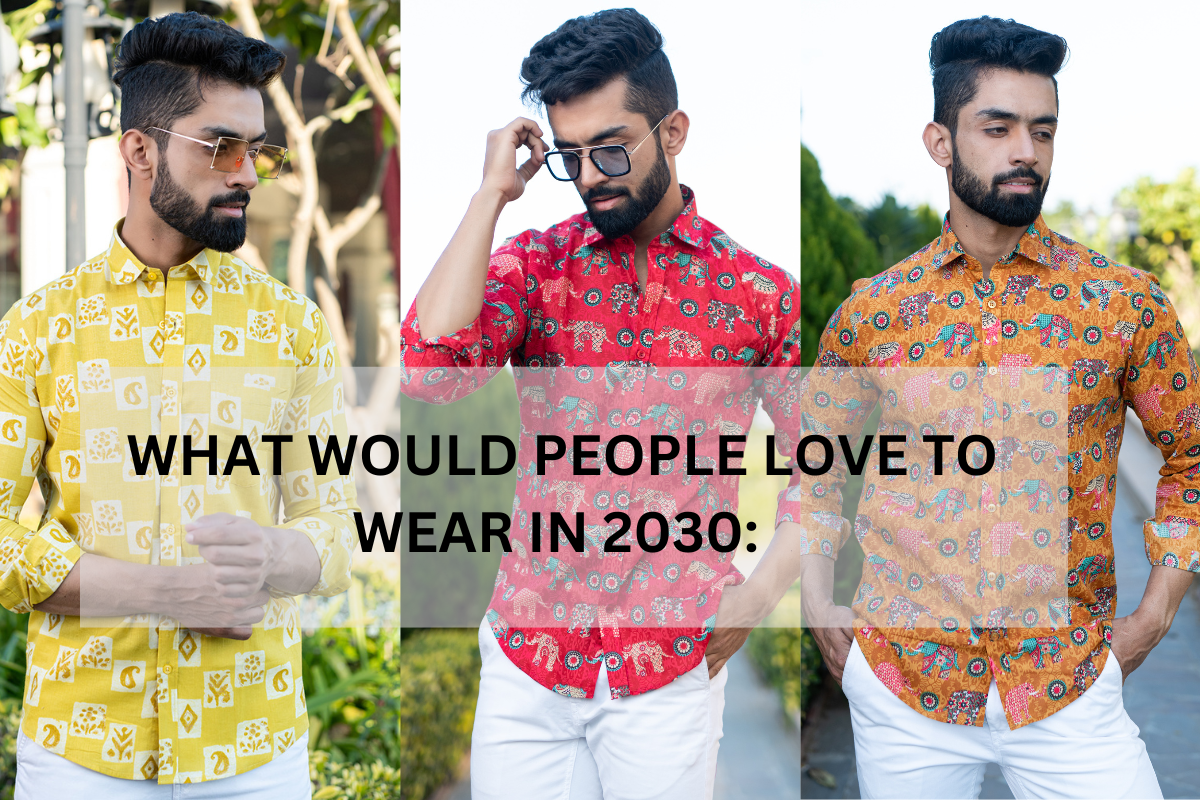 WHAT WOULD PEOPLE LOVE TO WEAR IN 2030? Change is constant in fashion and life. Predicting what will happen in 2030 may seem like a fool's errand, but we are ready to take on the challenge! The question is will people wear kurtas, t-shirts, trousers, and hoodies, or something else will come into the trend?
Let's take a look at some of the biggest trends. Read below for more information.
1. BESPOKE SHOPPING EXPERIENCE
The emergence of digital tools in the fashion industry has created an opportunity to offer customers a more personalized shopping experience. By 2030, we believe fashion brands will use data from their customers' online interactions to offer a truly personalized shopping experience.
This includes everything from showing off clothing and accessories that match your style to recommending items that complement items you already own.
2. SUSTAINABLE FASHION
No discussion of fashion trends for 2030 would be complete without mentioning sustainable fashion. As mentioned earlier, consumers are becoming more conscious of their environmental impact and are demanding that fashion brands do better when it comes to sustainability. We predict that by 2030, sustainable fashion will be the norm, not the exception.
As sustainable materials are used more frequently in fashion design, fashion brands will find new and innovative ways to reduce waste. What does the future of sustainable fashion look like? I'm looking forward to it!
3. RENTAL CLOTH SERVICE
Clothing rental services are expected to become more popular as people become more aware of the environmental impact of fashion. These services allow customers to rent clothing for a specific event or period and then return the clothing to the rental company.
People started renting clothes for weddings or normal functions which is normal these days, people also rent stylish shirts for men, kurtas, jackets, and many more.
This is a great way to save money and reduce waste as you don't have to buy new clothes every time you need to wear something. We expect clothing rental to be big business in 2030!
4. INFLUENCERS WILL PLAY A GREAT ROLE
In recent years, we have seen the rise of digital influencers taking the fashion world by storm. We believe this trend will continue in 2030, with these influencers playing an even more important role in shaping fashion trends.
Digital influencers often have large and engaged social media followers that they can use to promote a particular fashion brand or style. We predict that in 2030, many fashion brands will partner with digital influencers to reach a wider audience and promote their products.
5. NO SIZING
In order for the fashion industry to save materials and eliminate the risk of scraps of fabric being thrown away, clothing can begin to be tailored specifically to each person's exact size. companies may need to use clothing sizes. Like new trending shirts for men can be worn by women now in any size.
This may involve scanning and measuring the body to manufacture the garment. This new way of making clothes will ultimately reduce the need for mass production and greatly reduce the burden on the environment. Increase.
6. HANDMADE
Quarantine has caused many people to start making crafts, including making their own clothes like stylish shirts for men. Throughout 2022, the report shows a surge in the recycling market growing 24% faster than retail overall. A prediction for 2023 could be an increase in taste and production of handcrafted pieces inspired by the current impact of the pandemic on society.
WRAP UP:
We can only guess what fashion trends will be and what our clothes will look like in 100 years. Technology certainly plays a role in clothing, but it cannot be fully representative of society until it gets there over time.
Trends change all the time, technology grows, and the current pandemic. The impact is likely to last, but on the whole, we can guarantee that the fashion industry will have a unique and bold technology-based impact on clothing.